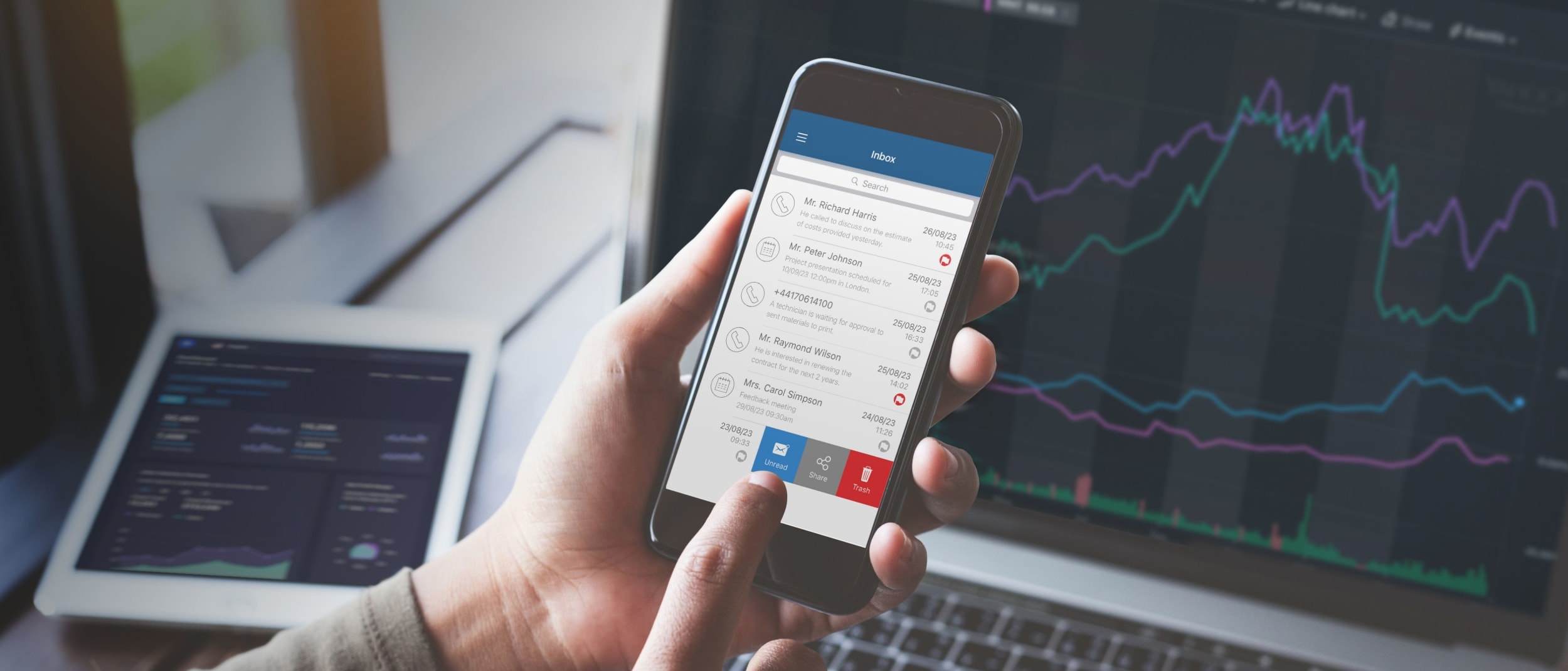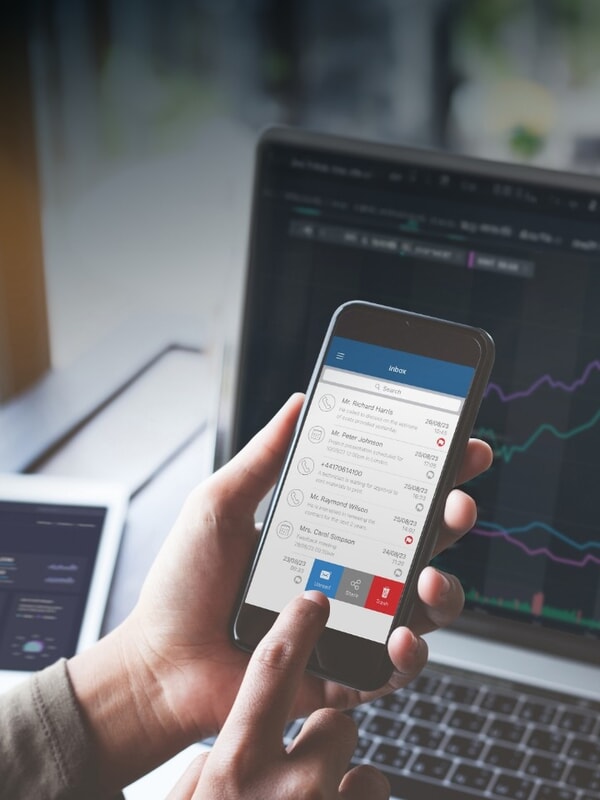 The telephone service for financial advisors
Test 14 days without risk
Your customer account has successfully been created. You will be redirected to our customer portal, where you can continue to set up your virtual secretary.
Always focus on the essentials with our telephone service specifically for financial professionals
Investors expect their financial advisor's full attention. In order to optimally advise your customers on important financial decisions, you need not only good preparation but also your concentration above all. This often forces self-employed Financial advisors into a split: On the one hand, they want to advise customers without interruption, but on the other hand, they want to remain available for important calls.
Imagine a new client is looking for a consultation and only reaches your mailbox. 63% of callers do not leave a message. How many of them will simply call the next financial advisor from their search results list instead of trying again with you at a later time?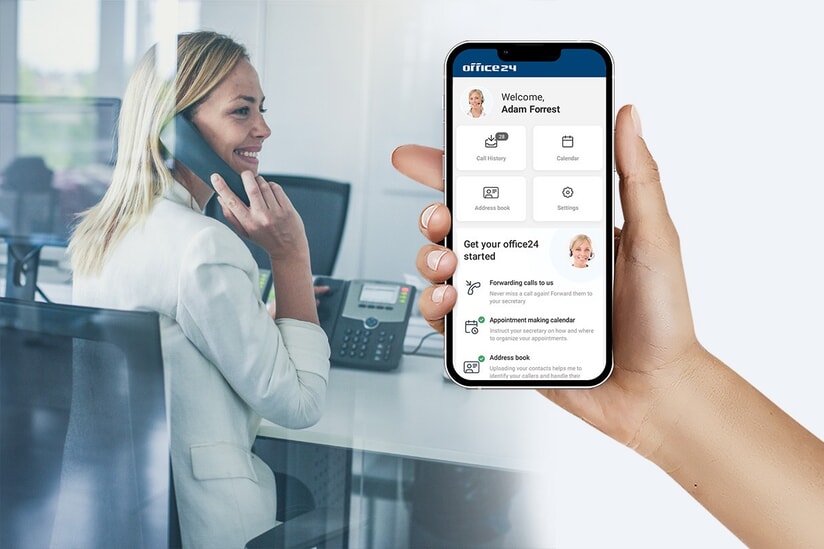 Never miss opportunities again
The secretarial service from Office24 is the solution:
Focus completely on your work. Our secretaries are available for your customers 24/7 on request, provide information and arrange appointments according to your availability. With the VIP list, you determine which callers your Office24 secretary or your Office24 assistant should put through to you directly. This way, you are reliably available for your most important customers at all times. You won't miss a call, inquiry, or order anymore.
The most popular features for financial advisors
Smartphone App

We are as mobile as you are

Direct your instructions to your secretary and receive all information about the calls handled by the secretary in real time on your smartphone.

Find out more

Appointment Scheduling

We organise your calendar

We ensure that your calendar is filled with truly valuable appointments. Just give us free time slots and we'll take care of the rest!

Find out more

VIP List

Which callers have top priority?

Are there certain callers that we should always treat with the highest priority and for example should always forward to you? No problem, just share your VIP list with us!

Find out more

Individual Call Answering

Call handling precisely according to your instructions

You decide how we should handle callers, depending on the caller, the reason for the call, or appointments in your calendar - we work exactly according to your specifications.

Find out more

Calendar Synchronisation

We keep track

Synchronise your calendars with your Office24 secretary so that neither you nor us miss any appointments and we stay up to date in your hectic everyday life.

Find out more

Contact Synchronisation

So that we can greet your callers by name

Synchronize your address book with your telephone secretary, so we can be quicker at noting names and callback numbers and recognizing your callers. This not only provides a great service experience but also efficient processes in your secretary.

Find out more

Call Filtering

Separate the wheat from the chaff

We are happy to pre-qualify calls according to your criteria, put VIPs through directly, arrange immediate binding appointments with potential new customers, and refer representatives to written communication.

Find out more

24h Service

Around the clock, 365 days a year

Even calls that come in during the weekend or later in the day, when you and your team may already be off work, can potentially mean new business or distinguish good customer service from a very good one - that's why we answer your calls 24 hours a day, 365 days a year if you wish.

Find out more

Switchboard

Quickly find the right contact person

Let us transfer the calls to the right places. With our employee secretaries, your colleagues have their own phone numbers and can make their own instructions and settings without losing sight of the connections within your company.

Find out more

Multilingual Secretaries

We speak many languages

Do you operate internationally and receive calls in English, French, Italian, Spanish, Catalan, Swiss German, or even Japanese? No problem, with our foreign language secretaries, the concerns of these callers are handled by native speakers in your company name.

Find out more
Our flexible tariff model
2 weeks free of charge
Just see for yourself!
Free 14 day trial
Immediately ready for use
No automatic contract renewal
Cancelable on a daily basis during the test period
Free consultation
Free Android & iOS App
Simply start
Starter tariff
from £39,00 / month
The ideal tariff for small companies and everyone who only occasionally needs the telephone service. The Beginner tariff ensures minimal fixed costs and full flexibility.
Standard tariff
from £79,90 / month
The tariff for self-employed individuals and small businesses who wish to use the telephone service regularly. Lower service fees are tailored to the increased call volume.
Professional tariff
from £179,90 / month
The tariff for everyone who wants to rely on Office24 around the clock. Including 5 employee secretaries and 24h service. Ideal for hotlines and larger companies.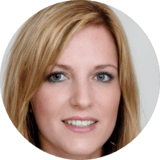 Sophie Allen
Customer Service
Just try it out – in the first month without a basic fee
What our customers say
This service is a great help when my secretary is on holiday or when the firm's solicitors are in court or in a meeting. We are always given immediate notification of our customers' needs, even when we are out of the office or cannot take calls.
It's been two years now that we have worked with Office24. We have quite specific demands in regards to our customer service, and at first we doubted we could find an external partner that would manage our incoming phone calls to our expectations. But Office24 is high quality, personalised, friendly and flexible. We finally found what we were looking for!
Working with Office24 allows us to use the human resources of our company more effectively, our customers can now reach us 24/7 and in different languages! It has definitely given us an advantage over our competitors.